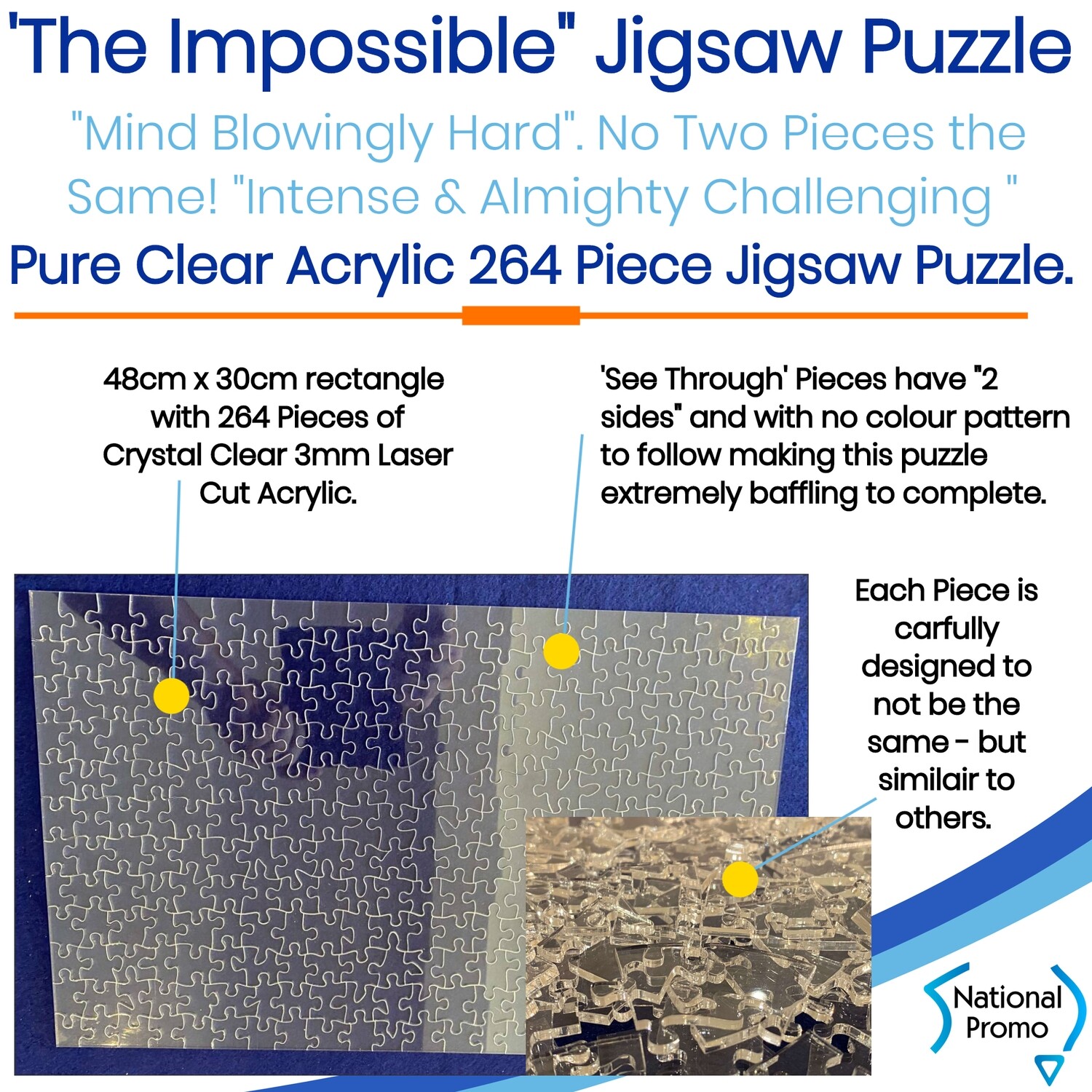 264 Piece "IMPOSSIBLE" JIGSAW PUZZLE (48cm x 30cm) RECTANGLE
SKU Jigsaw - 264 Piece
Product Details
For those of you who would like to tackle a jigsaw puzzle that is "crazy difficult" this is the ultimate puzzle challenge. If your tired of "standard" jigsaws where all the pieces are mostly the same shape, and the photo or pattern is easy to see your next piece, then we have the ultimate Mind Blowing Puzzle for you!
👉 This Jigsaw is made from completely see through CLEAR Acrylic. ( We also have them in Gloss Black or Gloss White) - they are still just as hard.
👉 You have no photo or image to work from making each piece disorienting and significantly more complex to find.
👉 The CLEAR PIECES (or All Black or All White), have 2 sides. You never know which piece is the "front or the back of each piece" which makes it significantly harder to sort and find the right pieces.
👉 NO TWO PIECES SHAPE ARE THE SAME - every piece is similar with only a slight variation making it harder to find the right pieces.
👉 Because we know a lot of people won't complete the jigsaw, and we really do want you to finish it, we include a "Cheat Sheet". It is the puzzle design printed at real size. You can lay it under the jigsaw and complete it on top of the print or have it next to you to help find the right pieces.
👉 ALL JIGSAWS INCLUDE FREE DELIVERY - DISPATCHED WITHIN 24 HOURS OF ORDERING.
We use either Australia Post or Fastway Couriers to get it to you. Whichever courier is faster to your delivery address.We have an EXPRESS POST OPTION for just $5.00 additional. Click the box on the options on the right hand side of the page BEFORE ADDING to the cart to checkout.
For pro-puzzlers currently self-isolating and looking for a real challenge, this one is a clear-cut winner.

⭐🧩But wait - we have harder jigsaws more elaborate than this one! 🧩⭐
Check out our round 91 piece, or our colossal 352 piece puzzles. These are "truly impossible" and we give away prizes on our Facebook page for anyone who completes it, takes a photo and posts it to our page.
Self isolation means we have some time to challenge ourselves mentally. Our jigsaws make that happen.
⭐⭐😎✈🚟🚝🧩🚢🏝🧻🆓😎✈🚟🚝🏝🧻🧩✅🙋‍♂️🆓⭐⭐

WOULD YOU BE INTERESTED IN A FREE HOLIDAY WHEN IT IS TIME TO TRAVEL AGAIN?
When all this inside time is over later this year and next, you will be keen to travel. We want to reward you with a holiday credit for purchasing one of our puzzles. When you collect 20 holiday vouchers throughout 2020, accumulating a total spend of $1200 over the rest of the year with National Promo, we will gift you a 4-7 night luxury resort holiday for FREE.

The Biggest giveaway offer we have ever given in 20 years. With any $1200 total purchase value from National Promo – we will gift you a FREE 4-7 NIGHT FREE LUXURY OVERSEAS or AUSTRALIAN HOLIDAY.
THIS PURCHASE WILL EARN YOU: 1 HOLIDAY CREDIT
You can accumulate order totals from multiple orders throughout 2020, and once you reach 20 holiday credits, the holiday is yours.It is available on ANY products, not just jigsaw puzzles. 1 holiday credit is valued at every $60 spend with National Promo. Reach 20 holiday credits ($1200) and get your FREE HOLIDAY.
As this promotion runs for all of 2020 and beyond, & the fact you get a 2 YEAR REDEMPTION PERIOD to take the holiday after its booked, means you have plenty of time to get life and business back to normal, plan a holiday, book and then enjoy some relaxing time out. You might even want to take the puzzle with you.....
Save this product for later